Major Products
In addition to custom-engineered designs, Spectrum Instruments offers a wide range of standard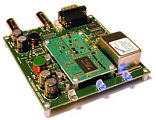 , off-the-shelf products that meet a wide variety of needs and expectations. Our OEM board-level products are designed to be integrated directly into customer equipment and systems.
Rack-mount products are available in any front panel configuration, and provide precise time, synchronization pulses and reference frequencies according to customer needs and specifications. The Intelligent Reference/TM-4™ is a small, easy-to-integrate instrument offering a highly accurate, 10 MHz GPS-disciplined oscillator, sine wave and TTL outputs, a one-pulse-per-second output with corresponding ASCII serial time message or optional Type-11 NTP output, simultaneous programmable output pulse and event time-tagging, optional IRIG time code output and many other features. IRIG-B and IRIG-G are the most popular time code variants, however, available IRIG choices include all standard code formats in both analog (amplitude modulated carrier) and baseband (DC level shift). The TM-4 raises the performance bar at an incredibly attractive price.
The TM-4 platform has also been used as a foundation for other fourth-generation products. The Intelligent Reference/TM-4D is a versatile analog and digital distribution amplifier that distributes any of the signals generated by the internal TM-4/OEM™ as well as signals supplied externally. Our TM-4M Time & Frequency System is incredibly versatile, operated by both rechargeable battery and AC power. Spectrum will be introducing a portable, battery-operated Rubidium version of this reference in the second quarter of 2007.
See our Products page for details on all of our outstanding products.